Description
Digital Realty provides the space where business and data meet, in innovative ways, to design the innovations of tomorrow's world. It offers a full range of data centre, colocation and interconnection solutions. PlatformDIGITAL®, the company's global data centre platform, provides customers with a secure data space and a proven data centre architecture (PDx™) solution methodology to fuel innovation and effectively manage the challenges of data gravity. Digital Realty provides its customers with access to the connected communities that matter to them: 1,500 businesses, + 1,200 network providers, + 1,200 IT & cloud providers via a single data center provider. Digital Realty offers the largest data centre platform in the world. Data centre figures: 310+ Data centres | 50+ Cities | 25+ Countries | 6 continents In Europe, Digital Realty has over 100 data centres, more than 700 connectivity providers and 21 Internet interconnection points for more than 2,000 customers from various sectors: cloud, telecoms, digital media, financial and public services, ESN, industry and services, etc. Digital Realty France, a subsidiary chaired by Fabrice Coquio, has two data centre hubs: - Paris: 4th largest Internet hub in the world - Marseille: 7th largest Internet hub in the world These campuses include 12 data centres: 9 in Paris and 4 in Marseille Digital Realty France, committed to a responsible digital economy The group is convinced that sustainable environmental performance is possible for the data centre industry worldwide; we want to help our sector move to the zero carbon economy of the future. Our goal is to support the development of the global digital economy while reducing the environmental impact of our data centres. How do we do this? By delivering the environmentally responsible data centres that customers, investors and employees expect. We have long been aware of our role and responsibility in the energy consumption of our data centres. We are committed to minimising their impact on the environment. Digital Realty France is carbon neutral for scopes 1 and 2 since the end of 2020. This is a key step towards becoming the first eco-responsible data centre operator in France. Our 3 pillars : Pillar 1 - Energy efficiency The continuous improvement of the design and operation of our data centres cannot be dissociated from a rigorous and intelligent energy management from the design of the infrastructure in order to be part of a sustainable approach and resolutely oriented towards energy saving. In eight years, Digital Realty France has improved the energy efficiency of its infrastructures by 49%. Pillar 2 - Renewable energy Since 2014, we have been supporting the development of renewable energy in France. Thanks to the "Guarantees of Origin", the equivalent of 100% of our electricity consumption is reinjected into renewable energy on the French network. Pillar 3 - Offsetting the carbon footprint Since 2020, our programme to support carbon sinks has enabled us to plant 36,442 trees in the South and Ile-de-France regions. Thanks to our efforts in energy efficiency and the use of renewable energies, we have only had to offset the carbon emissions equivalent to those of 210 French people/year, on average over the last 3 years.
Actualités - Livres blancs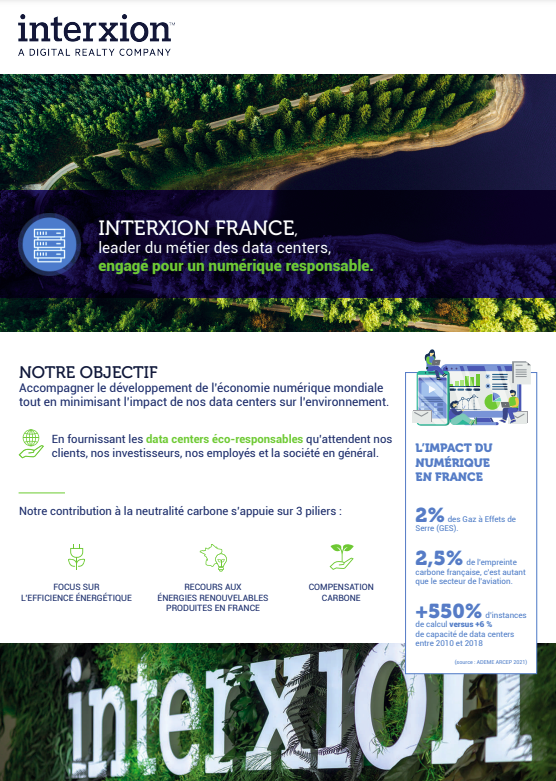 Téléchargez notre feuille de route pour un numérique responsable.
Télécharger

Interxion change de marque et devient Digital Realty.
Télécharger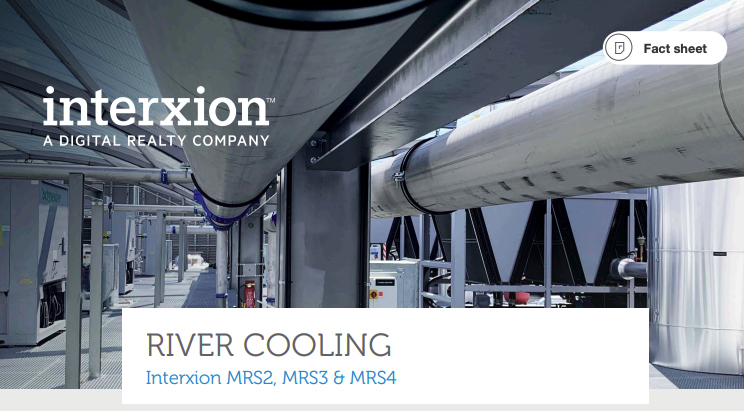 Décarbonez votre IT grâce au River Cooling
Télécharger